A ripple of panic spread through the digital marketing universe last week. Every time Mark Zuckerberg takes to Facebook and announces a new algorithm, companies such as Digital Freak and the clients we service prepare to adapt our social media management. A change to the Facebook algorithm means we need to re-evaluate our digital marketing techniques in order to maximise our use of this mega social media platform.
The new Facebook algorithm announced on January 11th 2018 was one of the bigger and more impactful changes we have seen in recent years. Taken at face value, pun intended, the new algorithm will make it much harder for businesses to get their products and services in front of their customers.
Facebook wants News Feed to be more about 'friends and family', Zuckerberg says. Bad news for business, right? Well, perhaps. But here at Digital Freak, we've delved a little deeper to discover how we can make this new algorithm work to our clients' advantage.
What Is The New Algorithm?
Of course, the technicalities behind the changes haven't been released. But we can take a look at what Zuckerberg announced and begin to understand what sort of content the new algorithm will be favouring and penalising. Below is the official announcement, with some highlighted words which we've identified as the most important phrases.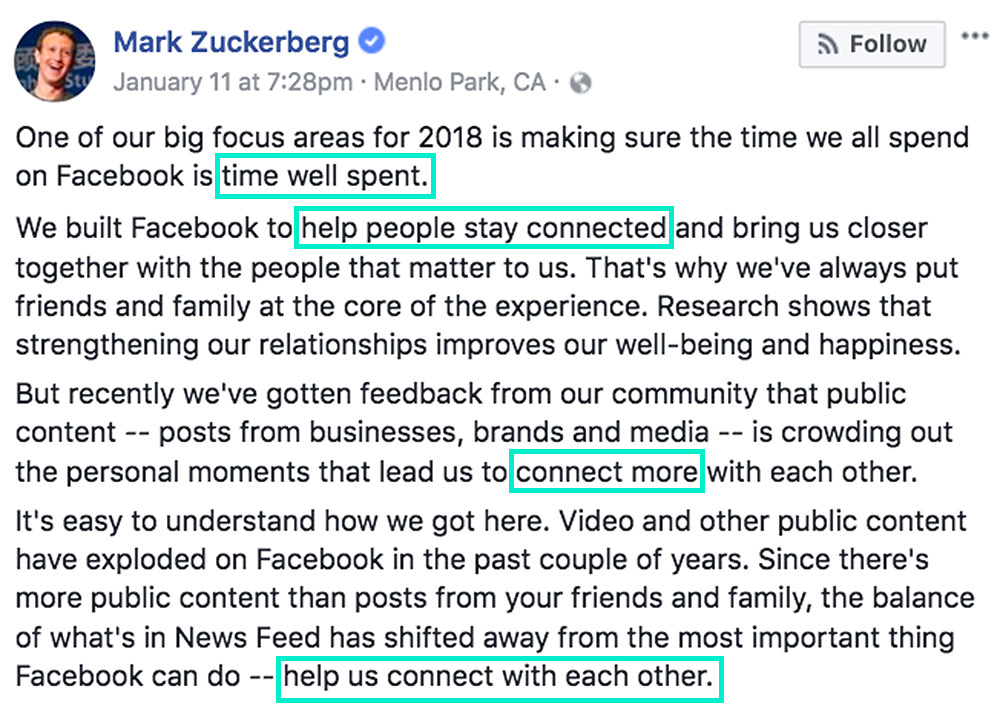 Notice anything? The word 'connect' (or connected) appears three times. This tells us something immediately. When it comes to judging the 'value' of a post on Facebook, comments are now going to be considered more important than likes or even shares.
Comments = Communication.
Communication = Connection.
If you publish content which users are actively engaging with in the comment section, this algorithm change could be great news for you! If you're not, a quick tip to boost comment engagement is to ask questions or encourage people to tag a friend for their chance to win something. Whenever you're creating content, remember this:
Comments Are King
The other section we're highlighting is 'time well spent'. This should be the golden rule of all content creation but we'll repeat it anyway: make sure all of your posts offer value to the viewer. Don't post for the sake of posting. Don't post pulp. Don't post something which is going to be buried under a swathe of other, better content. If you post low value content which receives minimal engagement (engagement = comments), your page will be identified by Facebook's algorithm as one which publishes poor quality content. This will reduce your chance of being on any News Feed in the future.
How Do You Adapt To The New Algorithm?
There is no need to throw up your hands in defeat and stop posting content on Facebook. On the contrary, there are many ways you can use this algorithm to actually increase your reach. Here are five top tips from Digital Freak, including tactics we're employing for our own clients:
1. Ask Followers to Follow You
This Facebook algorithm only affects people who have the settings for pages they follow set to 'default'. Create a short video asking them to go to your page, click 'following', then click 'see first'. As soon as they've done this, the algorithm changes won't mean a thing!

2. Post Better Content Less Often
Are you posting several times a day with minimal engagement? Stop. Take time to craft better quality posts and put more effort into actively engaging with your followers. Encourage engagement by asking questions, including a call to action (such as 'tag a friend who'd love x') and posting current, relevant and interesting content. Remember, Comments Are King so work to begin a conversation between your followers and your brand.
3. Go Live
Did you know Facebook Live videos have on average six times as much engagement compared to regular posts? More importantly with this new algorithm, live videos get an average of ten times as many comments! That's because Facebook promotes this kind of material and people enjoy the unknown, unpredictability of a live video. In fact, they watch live videos for an average of three times longer than a regular video. Schedule a time once a week and go live. Your followers will come to expect this little glimpse into your business and you'll be building a more personable brand to boot!
4. Take Advantage of Facebook Groups
Most businesses have a Facebook Page but what about a Group? While Pages are affected by the algorithm, Groups are different entities entirely and they offer an opportunity for you to create your own online community. Create a group which provides industry knowledge and support and invite like-minded users to join it. This becomes a forum on which people can ask questions, offer advice and share ideas. Those ideas, of course, can be related to your own business. Groups are not intended to be places where you advertise non-stop, however. Instead, use them to create a network, through which new business opportunities may arise. Digital Freak predicts this algorithm may see Facebook Groups step into their own when it comes to digital marketing.
5. Keep An Eye On Facebook's Upcoming Announcements
The same day as Zuckerberg's announcement, Facebook published on their WordPress media blog site as well. Facebook has partnered with the music industry in a big way. Universal Music Group, Sony/ATV and Global Music Rights have all signed deals with Facebook which we are sure will lead to a rise in the visibility the music industry on the social media platform. Musical content, therefore, is likely to do well in the future. Always keep an eye out for other announcements, deals and partnerships as this tells you a lot about the way Facebook is heading.
So What Now?
The most important thing to do is not panic. Facebook is the largest social media platform in the world and it is still a valuable Digital Marketing tool. With good quality content and an engaged social following, this algorithm will actually see your visibility online increase. If you are invested in Facebook Advertisements, try adapting your posts to encourage comments, as well as getting people to click through to your landing page. Social media management continues to be a service offered by Digital Freak and Facebook Pages will continue to be an important platform from which our clients can share their latest products, services and news.
For personalised advice, contact Digital Freak today and find out how you can boost your own Facebook Page.